Damon and I have been fishing a local lake for years. We've caught some big bass for MN standards in the 4 pound range. This year we can't quite figure out if the fish are bigger or if the anglers are better? To be determined…
I headed out on the lake in the afternoon around 2:30pm. It was windy and humid. Not too many boats out so I had my pick of locations. Started off in a spot where Damon and I caught our 20# bag earlier in the summer. Didn't have a single bite. I moved over to a new location to the side of a public beach. caught a 1.5# bass on a black/blue DRBc (that's a vibrating jig). I continued down the line and caught a tiger muskie and a bigger pike. Not what I was after.
I picked up and headed to the calmer side of the lake on a little point. Couldn't get a single bite. I had noticed earlier there was a boat finesse fishing docks with soft plastics. There were docks near me on the side of the lake where I had never fished the docks. This year I have been working on my jig skipping skills so I pulled out my med-heavy 13 fishing rod with my Abu Garcia Premiere reel, 30# PowerPro braid with a home made swim jig by Damon we call the Brim Reaper. It's a gill color skirt and I pair it with a rage tail in green pumpkin. This jig has a special feature that I will keep secret as this particular jig has produced several bass over 4# this year on this the lake.
I pulled up to the docks and started skipping the jig. Second dock, bang, 3# bass. Man, that felt good. I had been struggling with getting the skip down where my reel wouldn't backlash. It was causing me a lot of frustration. Then I laid into a giant… 0.88# bass on the next dock. Not the size I was after.
The next dock had a fishing boat on one side and a pantoon on the other. I tried to skip the pantoon and the dock a couple times and came up short. Looking back at it now I wonder if I had knocked into the dock or really casted offline if I would have spooked the fish I'm about to stab. Who knows. However, the next cast I decided to tighten my spool tension. Thinking I would get less backlash if I just cranked it down. Next cast was professional angler perfect. Skipped the jig about 10-12 feet straight across the top of the water under the dock, in the middle. Must have skipped 10 times with zero back lash. I click the bail and let the jig tense up the line as it hit the bottom. I popped it up once, nothing… let it sink back down, popped it up again and then it felt like it hit a rock. Wasn't taking chances and unleashed a hookset. DING, I was hooked up with a fish that refused to move. It then jumped under the dock. Not sure how that happened but it must have brushed up against the under part of the dock when it did. My heart started to race as I knew I had something big on. I didn't realize how big until it came out and darted down and then jumped out of the water again. It was a GD giant. Bass fisherman say this all the time but I knew I wasn't just over selling it, I knew I had a beast. It darted back down into the weeks, it took out line on my baitcaster and got under the boat a bit. I grabbed the net and kept tension on the fish. It came within netting distance and I missed it. My heart sank but the fish kind of bobbed there next to the net. because I kept tension on it with my rod. I repositioned the net and got her in the net but I couldn't lift her out of the water with one arm so I slid the net towards the boat and high enough where I knew she couldn't jump out.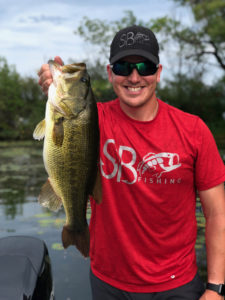 I sat there, looking at the girth of this fish as it lay in the net. I set my rod down and grabbed the net with both hands to bring her in. It was the fattest bass I had ever seen and I had caught a 5.3# bass in the fall on this very lake. The fish was so heavy to hold and I got her on my scale which wouldn't lock in but was ranging from 5.5 to 5.75 pounds. I knew she had been out of the water for a little bit so I wasn't going to wait for the weight to lock in and I put her in the live well. Filled it up, add some G-Juice and I knew she was going to be just fine.
I sat there for 30 seconds and knew I needed to call the B in SnB Fishing, Damon Bilitz. I was shaking and I'm sure I sounded like a bumbling idiot on the phone. See, you have to know my excitement that not only did I have a 5+ in the well but it was a dock bass skipping a jig which is Damon's favorite way to catch bass. I knew he'd be stoked and I wanted to share in this accomplishment with him. He was driving home from work to pick up his son which was about a 45 minute drive from where I was. Didn't matter, he said he'd come on down and snap some pics. Thank God he did and I'll never forget this fish and sharing it with my best friend… in his dress slacks. Baha.